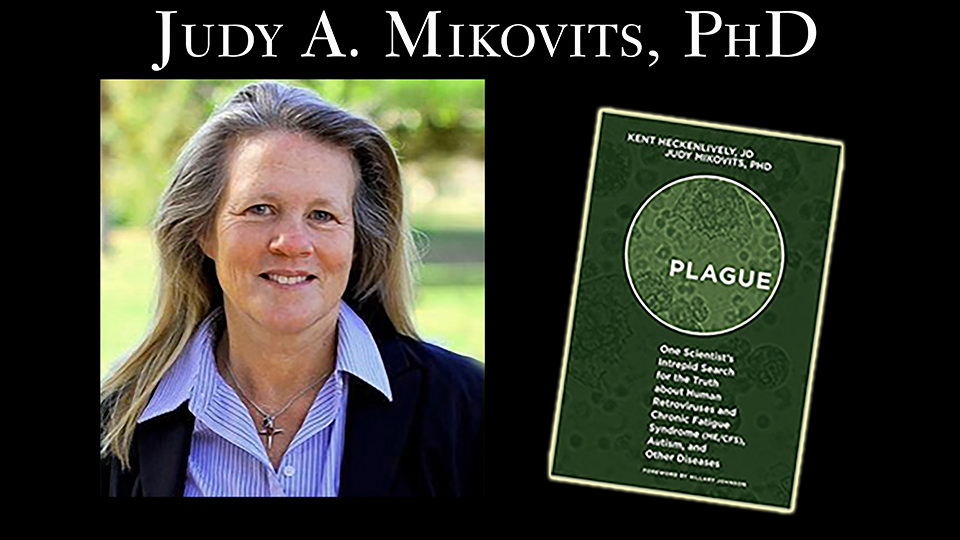 REUNION GUEST SPEAKER
JUDY MIKOVITS
PRICE: You must sign-in to your
account for pricing information
NEW ELIGIBILITY REQUIREMENTS
Starting Jan 1, 2017, non-current students MUST have completed a Class 101 event since 2014 to qualify for all NEW events open to non-current students.

This new eligibility requirement does not apply to events that are "Open To The Public" or On-Demand streams that were available online prior to 2017.
REUNION GUEST SPEAKER
JUDY MIKOVITS
---
START TIME:
Thursday April 20, 2017 at 7:00 PM (PDT)
Judy Mikovits, PhD, spent twenty years at the National Cancer Institute working with Dr. Frank Ruscetti, one of the founders of the study of human retroviruses.
THIS EVENT IS OPEN TO THE PUBLIC
---
Dr. Mikovits has coauthored more than forty scientific papers. She is also the coauthor of the book, Plague: One Scientist's Intrepid Search for the Truth about Human Retroviruses and Chronic Fatigue Syndrome (ME/CFS), Autism, and Other Diseases.
Like Dr. Candace Pert before her, Dr. Mikovits confronted a scientific establishment corrupted by political forces, personal ambitions, and sexism. Plague reads like a suspense novel as Mikovits pursues the truth about retroviruses despite a public health system that does what it wants for its own purposes.
PURCHASE TERMS:


Live Stream registration includes the Live DVR Player and access to the on-demand videos from the event which will be available until 5/22/2017 6:00:00 AM.
Barring any technical issues or editing requirements each session should be online within 30 minutes after the session has ended.
We cannot guarantee live teachings by JZ or Ramtha will be made available for review.
If live teachings by JZ or Ramtha are made available there could be a delay due to editing requirements and/or staff availability.
We also cannot guarantee the form in which the teaching will be made available. In some cases an "audio only" version of the teaching may be all that is released.
---
LIVE STREAM REFUNDS:

Refund requests must be made while the stream is in progress or within the first 24 hours of a multi-day stream.
Refund requests may not be honored after the stream has ended or after 24 hours for multi-day streams.