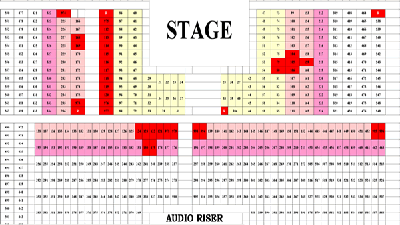 RESERVED SEATING PROGRAM
The 2013 Reserved Seating Program is available for registration starting on January 12, 2013 at 11:00 AM (PST). Reserved seats are available for a 12 month cycle starting April 15, 2013.
Reservations are processed on a "first come - first served" basis.
ORDERS PLACED BEFORE 11:00 AM (PST)
JANUARY 12, 2013 WILL NOT BE PROCESSED
Current Yelm Time (PST)

INSTRUCTIONS:
To find seats available for reservation, click the 'SEATING CHART' graphic below
and scroll right to the stage in the 'Reserved Seating Map' window (the stage is
aproximately at the center of the seats available for reservation) You may also
scroll down for more possible seating available for reservation
Seats available for reservation are within 6 rows from the stage,
identified in 3 colors, depending on pricing.

Level 1 - $1000
Level 2 - $500
Level 3 - $300
Seats in Red are not available

Select a minimum of 3 choices of seats and list them in the
"Special Instructions" section upon checkout.
Go to the Reserved Seating Request in the ramtha.com
shopping cart and add the item to your cart.
Select 'Secure Check Out'
Fill out the cart form and list 3 or more choices for reserved seating,
in order of preference, in the 'Special Instructions' box at the bottom.
To view a larger image of the Seats included
in the Reserved Seating Program Click Here
All Sales Are Final, No Refunds, No Transfers.
Offering workshops and retreats for knowledge, enlightenment, and enrichment